Reconnecting Through Nature
RECONNECTING THROUGH NATURE
How two high school classmates reconnected after 50 years apart through conserving land with the Nature Trust
BY: DANIELLE ANDRUS, COMMUNICATIONS MANAGER
It was a warm spring day in 2017, and Judith Seymour was on her way into town for a coffee date. She was working on finalizing her land donation, 94.5 acres of mixed woodland in Estey's Bridge, to the Nature Trust of New Brunswick and was driving to the city to meet with Nature Trust Executive Director, Renata Woodward, to see how things were shaping up.
The two met at a local café and began to chat about the new preserve, among other things, when Judith asked about other projects the organization was working on. Renata began to speak of a property that they had recently acquired and were working to finalize in the Keswick Ridge region. When she mentioned the names of the land donors, Patricia and Jan Volney, it took Judith by surprise.
"She said 'we're working on another donated property up in Keswick or Keswick Ridge, donated by Pat and Jan Volney,'" said Judith. "I said 'okay, there aren't many Volney's around' and that I went to school with a Pat Cameron."
The recently acquired property, 16.5 acres of rare mixed Appalachian Hardwood forest, was to be named the Margaret Coburn Cameron Woods Nature Preserve, in memory of Margaret Coburn Cameron. This, Judith said, solidified it. She must be her old classmate.
Renata offered to reconnect Judith with Patricia, whom she hadn't spoken with in 50 years. When she returned to the Nature Trust office, she sent out an email to both women so that they would have each others' contact information. It was a kind gesture, yes, but nothing came of it – at first.
Judith and Patricia met in 1963 when they entered secondary school at Fredericton High School. They were from opposite sides of the river, with Judith living in Estey's Bridge and Patricia on the south side of Fredericton. Prior to their first day, they had individually decided to add an extra class in Latin to their coursework, which meant they were placed into a C1 class.
Patricia sat on the opposite side of the classroom from Judith and though they sat apart, they were able to get to know one another quite well, as they had many friends in common. Being placed into a C1 class meant that they took all the same classes together with their classmates until they graduated.
"We were academically, quite proficient, but we were not content to be studious only; we were out to have a good time," Judith said, laughing. "I heard that we were the worst C1, B1, and A1 class ever."
"I heard that too," Patricia said, laughing in agreeance.
"We were easily bored and if the teacher didn't come to class with a good game plan, they were out of luck."
Though they had become friends during school hours, they did not have the opportunity to socialize after school. They weren't old enough to drive and with the lack of public transportation and Judith living far back on the opposite side of the river, they often had to return home after school and complete their farm chores or homework.
Judith and Patricia graduated in 1966, along with 360 other students, and both went on to post-secondary studies in the sciences faculty at the University of New Brunswick (UNB). They were in the same faculty, however, they did not have classes together often as they were focusing on different subjects. As their coursework became heavier and their personal lives grew, they began to lose touch.
Patricia went on to marry well-known entomologist and scientist, Jan Volney, in 1970 and moved to Connecticut with him when he received a full scholarship at Yale University. She worked at the Yale School of Medicine to help support her and Jan while he completed his MSF in Forest Ecology. He moved on and completed his Ph.D. in Forest Entomology at the State University of New York when he was offered a teaching position at the University of California – Berkley. He accepted the position, with Patricia's support, and they moved to California where they lived for 10 years. They returned to Canada when he was offered a position with the federal government in Edmonton, where Patricia still lives today.
When Judith graduated from UNB, she attended Dalhousie University in Halifax in the College of Pharmacy. This path, she said, was to make her a better candidate for veterinary school. Back in the 1970's, few women were accepted into veterinary medicine, especially in Atlantic Canada. Judith, who was in the top of her class, would apply to veterinary school for 14 years and would only receive one interview. This led to her career as a pharmacist.
She went on to live in Edmundston to work on her bilingualism and then to Bathurst before moving back to Estey's Bridge, where she found work at Devon Pharmacy. Judith eventually purchased the pharmacy and has lived in the village ever since.
NATURE APPRECIATION IN THEIR BLOOD
Both Patricia and Judith grew up with an appreciation for nature and land conservation. Patricia's parents were involved with science and aware of pollution and land and water degradation, which they would discuss openly with their children.
"We were always brought up with it and it was something that was always important to my family and always talked about," said Patricia. "My family was the type of family where you sat down for dinner and all these things were discussed. It was just part of our lives."
Patricia's mother, Margaret (Coburn) Cameron, was from Keswick Ridge and was one of six children and a 9th direct generation member of the well-known apple farming family, the Coburns', who have inhabited the Keswick Ridge region for well over 200 years.
Patricia would visit her grandmother on the farm every Sunday and remembers her sisters and her mother exploring the land often. She credits her mother for instilling a deep love of nature in her upbringing.
"She absolutely loved going through the woods and the orchard," said Patricia. "She and one of her cousins used to have a contest to see who could find the first of the spring wildflowers; it was something she was always interested in."
Judith grew up on the Harry Seymour/Stuart Seymour Dairy farm and was always immersed in nature. As the youngest child, she was closest to the land and would explore the woods and come across the toads, turtles and other creatures that called the property home.
The Seymour's have lived in Estey's Bridge since the late 19th century. Judith's grandfather built a house and dairy farm near the preserve property when he and her grandmother married and it was there that they raised four children. Judith's father took over the farm and raised her and her brother to be hard workers, while her mother, a teacher, always put a strong emphasis on good education.
When her father retired from farming, he sold part of the dairy farm and left the woodlot to Judith and her brother. When her brother, a forester by trade, moved out west, he left her to care and watch over the woodlot.
CONSERVING THEIR FAMILIES LEGACY
Judith is currently the last generation of Seymour's left on the original property. When she returned to Estey's Bridge, in part to watch over her aging parents, she built a house beside the woodlot. After they passed, the woodlot remained still and undisturbed. That, she said, is when she began to think about life's finite state and how she could properly honour her family.
"My father and my grandfather were really good stewards [of the land]. They cut wood selectively, there was no clear cutting that went on here because the land, the forest, is what supported our family in times when the other crops didn't do well," said Judith.
"So, I began to think about it, four or five years ago, that life is finite and really, to honour my parents and grandparents, I began to look at a way to preserve the property so that young people can find a place to walk along a path or a trail."
Judith began to explore organizations that accepted land donations and were in line with her vision for the property. She wanted the property to have the same meaning to others that it meant to her; to offer a quiet, serene place to think or slow down or to get away from the city. After searching online, she came across the Nature Trust and began the process of donating the Seymour Woodlands Nature Preserve.
"I took walks and came across a lot of wildlife [in the woodlot] and those opportunities are rare. This property will only have footpaths and nothing else and will stay undeveloped," said Judith.
Prior to moving to California, Patricia and Jan planned to settle down in Keswick Ridge. Property along the Kee Road had been subdivided and available for sale and they became interested in purchasing a five-acre and 11-acre piece located beside each other, which were home to rare plant species. After a back and forth discussion with the landowner and after other potential buyers dropped out, they were able to acquire both pieces.
Because of Jan's career opportunities nationally and internationally, they were unable to build a home and live on their beloved property. Although they would visit often when they returned to New Brunswick, it was Margaret who would become a steward to the property. She was an avid amateur naturalist and knew much about the forest plants of the Keswick Ridge area. She would pay regular visits to the woods to walk through and look at the flowers and could be seen traversing through the property, right up until she passed away at 93 years of age in 2015.
After Margaret had passed, Patricia and Jan had to make a decision on what to do with their property.
Their son did not express any interest in the land and after canceling a potential sale, they reached out to the Nature Trust and to begin the memorial donation of the Margaret Coburn Cameron Woods Nature Preserve, which was finalized in early 2018.
"We named the preserve after my mother because she loved the land so much, and we wanted it to be a tribute to her," said Patricia.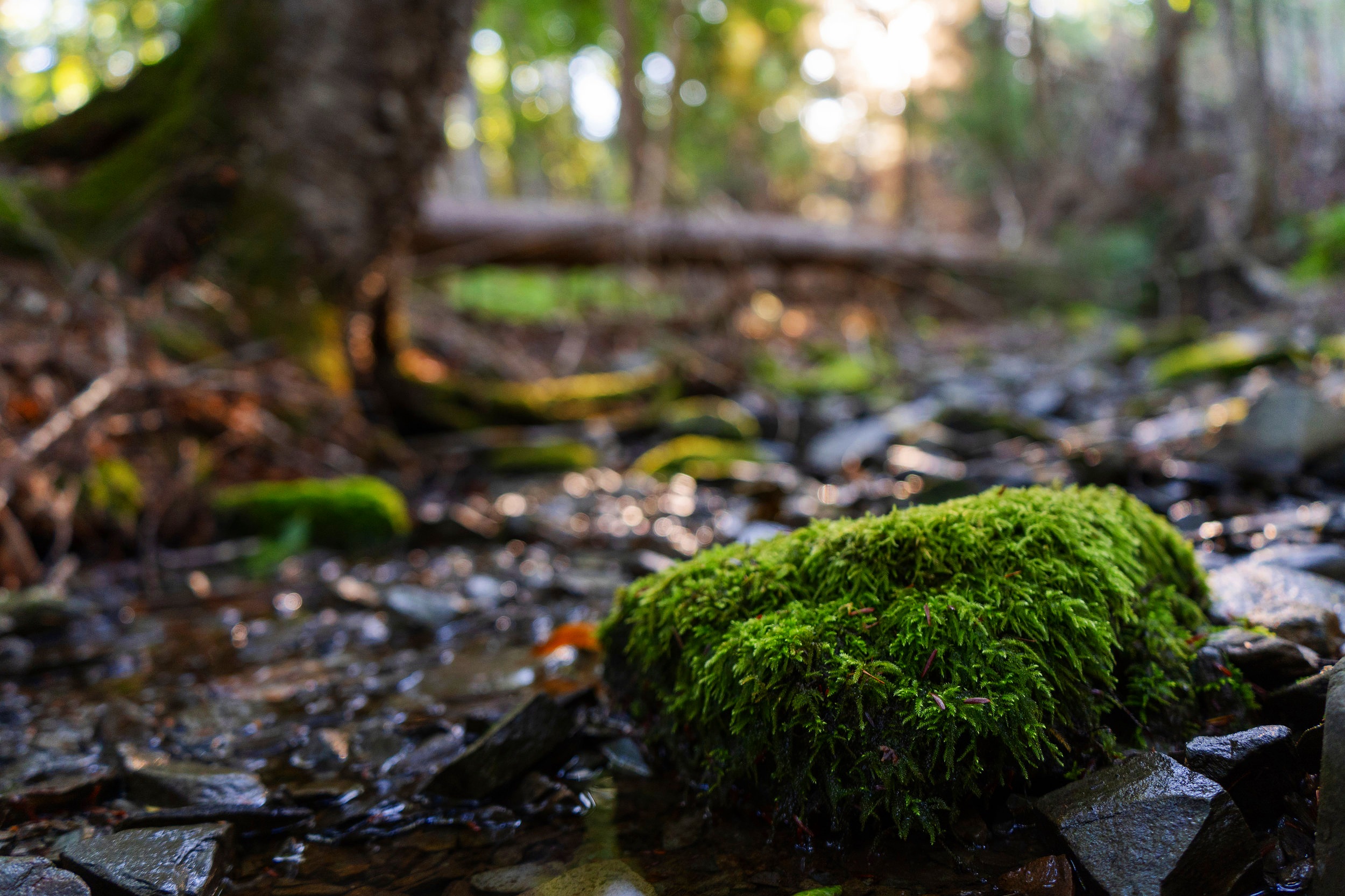 "Well, I didn't do anything [at first]," Patricia said. The first email Renata had sent out came at a bad time for both women.
Jan, Patricia's husband of 47 years, had recently passed away and she was in the process of re-establishing her life, while Judith was helping with some of the community issues that Estey's Bridge faced. Renata sent out a second email after not hearing from them, which Patricia responded to immediately, curious about which Judith it was.
"All she would say is Judith this, Judith that, and I said, 'I went to school with several Judiths, so which one is it?'," said Patricia. "I replied, and Judy gave me her phone number, so I phoned her."
It had been 50 years since they had last spoke, but it felt as if they had talked just yesterday.
Patricia and Judith have been in regular contact with one another ever since. In August, Patricia and her son drove to New Brunswick to attend the grand opening of her donated property, which was held the same weekend as the Coburn family reunion. Judith was able to attend the opening and the two were happily reunited.
Neither Patricia nor Judith are surprised about each other's land donations, knowing of their upbringings and given both of their appreciation of nature.
"Until I heard about Pat, I really didn't personally know anyone else who had made such a donation," said Judith. "Some family and friends have suggested that I could have made a better choice for the property or perhaps sold it. Others with whom I have shared the news think it is a great idea, good for our community as well as providing an opportunity for others to enjoy the country and woodland experience."
"Yes, I could have sold it, but the reality is that I don't feel like I'm going to need the income to live out my years and I prefer the choice I made."
"I think when people see opportunities to explore and see the value of it, then they will start to understand why it is important."